To the gamblers they are a way of tracking wins and losses. To the casinos they are cash. To the collectors they are pieces of history and art to be archived and displayed.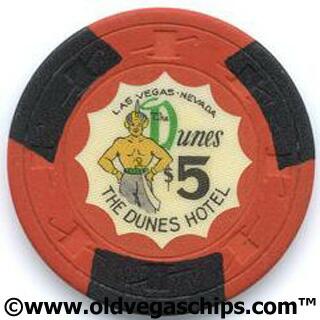 Most casino chip collectors began in the same fashion simply by taking home a chip or two from a vacation or business trip. The chips are tucked away in a desk or dresser drawer to be forgotten about until the next opportunity to visit the casino. As the stack of souvenirs grows, the collector may become curious to the number of chips available and the number of casinos that had chips that can be obtained. Once the curiosity starts, the collector is now fully hooked and is on his or her way to a fascinating journey into gaming history.
There have been gaming counters of some sort as long as there has been gambling. Poker chips made of bone, mother-of-pearl, and ivory are highly collectible. These chips date back to the mid to late 1800's. Actual casino chips, or cheques, can be attributed to a specific establishment or in the case of a few, establishments.
Casinos enjoyed steady growth with the legalization of gambling in 1931. The early casinos were tiny compared to the mega-resorts today. One or two table games, sometimes located in the back of a restaurant, were common. This also meant the number of available chips was limited. A dollar was worth more then than now and the chances of someone not cashing in their chips were pretty remote, unless he or she happened to be wealthy. The low denomination chips were used heavily and are typically quite worn when found. On the other hand, high denomination chips were not used as frequently and they can be found in much better condition, if they can be found! As casinos closed or changed owners, the chips on hand were typically destroyed or cancelled by various means. This makes finding older chips more difficult and the prices they command can be quite high. A $5 Hacienda that was found at a yard sale was sold at auction for $15,100. In early 2004, a Sands Hotel $5 Casino Chip, like the one shown, was sold at auction for over $33,000. This chip was previously unknown and the transaction currently holds the record for a documented amount paid for a chip.
There are a wide variety of chip types, with the most common being the clay composite. Even within this type, there are basic elements that differentiate the chips and result in some being scarcer than others. The mold is the design around the edge of the chip. This aids in dating the chip and identifying the manufacturer. The edge spots or inserts help to quickly identify the denomination and deter theft. The inlay, which can vary in size and shape, may contain the casino logo, denomination, and other designs.
The fun part of casino chip collecting is the number of different ways people choose to focus their efforts. Collections have been broken up by denomination, geography, obsoletes, specific casinos, etc. Some of the best collections I have seen focused on the type of chip, for example crest and seals. These are some of the most elegant and striking chips known.
What a person chooses to collect is dictated by interest and budget. Some collectors will find themselves in acquisition frenzy while others will patiently wait for that special chip to become available. The number of collectors has grown significantly over the last few years with the help of online auctions and the deluge of Limited Edition chips that are put out by casinos to commemorate a variety of events ranging from the Super Bowl to concerts to, of all things, Tax Day.
In 1988, many like-minded individuals created the Casino Chip & Gaming Token Collectors Club, Inc. This international organization has over 6000 members on the rolls with over 3000 currently active. Each year the members gather for their annual convention. This is a chance for collectors, dealers, and traders from all across the country and the world to meet to exchange ideas, renew old friendships and make new ones and of course talk chips! This year the Convention will be held at the Riviera in Las Vegas.
For more information about the club, please visit our website http://oldvegaschips.com/ccgtcc.htm
There are also several local groups of collectors. The Ohio Valley Casino Collectibles Club and the Deep South Chip Collectors Club are examples of geographically based clubs. Some are "type" clubs, such the Silver Striker's Club and the Illegal Chip Collectors Club. These groups host their own events and swap meets, providing new and experienced collectors opportunities to expand their collections and gain more knowledge of the hobby.
A perfect example of collecting diversity meets every Monday for lunch to talk chips and make trades. One collector deals mainly with Southern Indiana illegals and chips from the Frontier. Another focuses on chips from Lake Tahoe while another seeks out chips that have a person's name on the inlay of the chip. Unidentified or UFCs are a favorite of one gentleman while another brings in binders of non-Vegas and other U.S. chips. Lastly, one of the founding members of the International Club joins in with boxes and binders full of chips that most other collectors will rarely see, let alone hold in his or her hand. Every Monday is a history lesson in gaming from early Nevada to the notorious Northern Kentucky clubs.
While learning and acquiring are fun aspects of casino chip collecting, the most rewarding is finding something that was previously unknown. Discovering something new can be very exciting. There are over 21,000 different documented chips from Nevada casinos. The state has been home to hundreds of casinos over the years and no one knows all of the chips issued. New chips turn up often; there may be one in your grandfather's old shoe box right now.
The collection can be what you want, large or small, common or scarce, land based or riverboats, the possibilities are endless. Ask relatives if they have anything hidden away, visit estate and yard sales, and come join the fun.
Article courtesy of Jeff "Mr. Chipper" Buckner - one of the most talented writers I know.
---
A Short History Of Poker Chips In The U.S.
The game of poker began in the middle 1800's in bars, saloons and on riverboats in the mid-west and western United States. The word "poker" was derived from the French game, "Poque" and the British game, "Brag."
Coins, gold dust and gold nuggets were used as the monetary units in early poker games. Soon thereafter, chips replaced coins and gold particles, as they were easier to manage. Chips were made from ivory, bone, wood, paper and a composition made from clay and shellac.
The problem with these plain surface chips, is that shady characters could sneak their own chips into the game. Often, the establishment would end the game with many more chips than they began.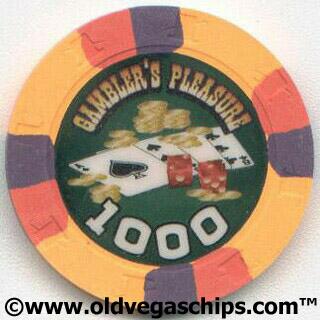 To counteract the "ringing in" of chips, manufacturers began to include a design to differentiate them from others. The design could be engraved, embossed, inlaid or a paste-on sticker. Ivory chips were hand scrimshawed with numerals, initials, flowers, animals and just about any type of design. The ivory chips were made to order so that each customer would have a set unlike any other set. Sometimes, there were only minor differences between sets, but they would not be the same.
Clay composition poker chips were made by several companies between the 1880's and the late 1930's. There were over 1000 designs from which to choose. Most chips were white, red, blue and yellow but they could be made in most any color desired.
The most expensive clay composition poker chips were made by the U.S. Playing Card co. in Cincinnati, OH, 1907-1939. These were "Crest & Seal" chips, which were composed of a circular lithograph, embedded into the clay, with a "Seal" of a polyurethane type liquid, over the entire surface. The Burt Co., in Portland, ME began making these Crest & Seal chips circa 1940 and continued until they closed about 1985.
Plastics became the material of choice for less expensive home poker sets in the 1940's, and continue to be popular today. They are injection molded, long lasting, come in many designs and are easily obtained. However, they do not have the "feel" or the quality of the pre-1940's chips. The best quality chips that are made currently are the ones made for casinos and poker rooms, either clay composition or injection molded chips.
Information for this article came from "Antique Gambling Chips, Revised Edition" by Dale Seymour.
Thanks also to Allan Myers, whose expertise and help I could not have done without on this article.