Vacation Village Casino
6711 Las Vegas Blvd
1990 - January 8, 2002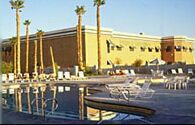 Vacation Village was a favorite casino of ours. It was located way off the beaten path, on the Las Vegas Strip, and the casino was a fun old style kind of place...with nice casino chips. The Vacation Village closed in 2002. We were there that night and we still miss the nice looking casino chips, great service and loose slots.
Vacation Village $1 Slot Token - Front & Back
---
Vacation Village First Issue $1 Casino Chip & Vacation Village First Issue $5 Casino Chip
---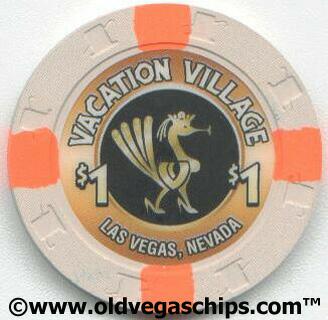 Vacation Village Last Issue $1 Casino Chip & Vacation Village Last Issue $5 Casino Chip
---
Vacation Village Millennium Spring $5 Casino Chip
Vacation Village Millennium Summer $5 Casino Chip
---
Vacation Village Millennium Fall $5 Casino Chip
Vacation Village Millennium Winter $5 Casino Chip

---