Castaways Casino
3320 Las Vegas Blvd
1963 - 1986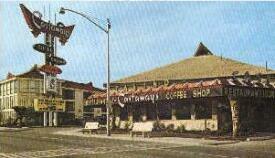 The Castaway's casino was very popular with locals and tourists alike. When Steve Wynn bought the Castaway's in 1986, many people were sad to see it close. It is a huge loss when the small & friendly places close. They are usually replaced with warehouse casinos with forgettable service.
Castaways Casino $1 Slot Token - Front & Back
---
The $1 Chip is the Second Issue. Used in the 1960's - was the ONLY Small Crown Chip used here. The Castaways used almost 10 different chip molds in the 23 years it was open!
This is a pretty rare $1 Free Play Chip. You don't see many of these "Dove Tail" chips.
---
Castaways Casino $1 Casino Chip & Castaways $5 Casino Chip
---
Castaways $5 Casino Chips
---
The $25 "H" Mold Chip is the First Issue. These are usually canceled as well. The cancellation has been removed from this chip too. It is very difficult to see.
The $25 Chip with the "natives" on it was the 3rd issue. Almost all of these chips have a cancellation stamp. You can see the cancellation was removed on this chip.
---