Le Reve Hotel & Casino
Now Called Wynn Las Vegas...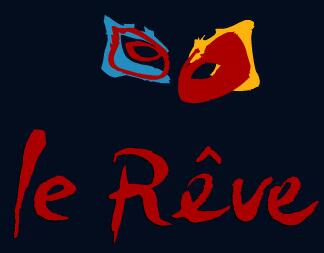 Construction at Le Reve, Steve Wynn's $2 billion megaresort, continues Strong. This image shot from the fifth floor of the main casino tower building shows the parking garage, left, and aqua theater with circular performance pool.
A local gaming expert is convinced Steve Wynn's Le Reve project will spur new Strip development even though most gaming operators are still waiting to see if his $2 billion project will succeed.
"As Le Reve becomes closer to being a reality, those who are waiting to see if Wynn will succeed will act," University of Nevada, Las Vegas professor and industry expert Bill Thompson predicted Thursday. "Le Reve should trigger more investment, but the doubters are still waiting. People are always waiting for a sign Wynn can't pull it off, but he always pulls it off."
Thompson's statements came after Wynn reported Thursday that his latest Strip project is on pace for a spring 2005 opening.
"The job was so well planned," Wynn said of the work done by his design team and lead contractor Tony Marnell. "It's working like a greased pig. You can't stop it."
When Wynn opened The Mirage, Treasure Island and Bellagio, his successes prompted other Strip developers to build their own megaresorts, Thompson said.
But as Le Reve takes shape, none of the major operators have yet committed to opening their own new Strip projects, instead focusing on adding hotel towers and other amenities to flagship Las Vegas properties.
Thompson, however, said Le Reve is an advertisement for the vitality of the Strip.
"For Las Vegas, Le Reve should be the city's number one priority," he said. "Las Vegas is a city that talks about winning, and Le Reve seems to be a winner."
Wynn Resorts' contractors are now working on the sixth floor of the main hotel, which is the second floor of guest rooms, Wynn said. Le Reve plans call for a 50-story tower with 45 floors of rooms.
The bottom levels will be below ground valet parking areas, with the casino floor, a mezzanine floor and the spa floor above them.
Workers are now finishing the third floor of the five-deck parking garage.
About 700 workers are building the project, a number Wynn said will increase to 2,600 when construction peaks next year.
Another 250 workers are already on Wynn Resorts' corporate staff.
Wynn said construction of Le Reve's signature design element, its five-story, man-made mountain, will begin in June or July.
"The mountain is by far the most complicated thing," Wynn said. "Tony Marnell is trying to work out how he'll build it."
Golf course construction is under way, and Wynn said it will be a special course.
He said construction of Wynn Resorts' other significant project, a Macau casino resort, is waiting for the semiautonomous Chinese island's expected approval of rules allowing casinos to offer and collect credit.
"We got a draft of the legislation," Wynn said. "It should be approved soon."
The draft legislation would accomplish two things, Wynn said.
First, casinos can make a lot more money if they can intelligently grant credit to worthy customers.
Second, if casinos are lending money to gamblers the market for the loan sharks who now hang around Macau casinos should dry up. Eliminating the casino loan sharks would please U.S. gaming regulators who worry about the Wild West image of Macau casinos.
"Casinos lend money at no interest," Wynn deadpanned. "Pretty tough for a (loan shark) to compete with that."
The Macau casino is tentatively planned to be called Wynn Macau, he said.
******************************************************************
Steve Wynn and a few hundred invited guests gathered at the old Desert Inn property on the Las Vegas strip on Thursday, 10/31,2002 to break ground for the $1.85 billion Le Reve project. Construction will start immediately and is expected to be finished in thirty months. The grand opening of Le Reve, French for The Dream, is slated for April, 2005. Wynn has all of the necessary financing for the project in place and has just completed an IPO of Wynn Resorts stock that provided the final $450 million needed to complete Le Reve. On hand at the ceremonies was Wynn's business partner, Kazua Okada, Japanese corporate chief and controlling owner of Aruze Corporation, gaming device manufacturer. Mr. Okada has invested $380 million in Wynn Resorts.
Mr. Wynn is noted for his ability to design and build mega resorts that define the standard in Las Vegas properties. The creator of The Mirage, Treasure Island and Bellagio properties has stated that Le Reve will not have a central theme but rather will offer guests the ultimate in casual elegance and luxurious surroundings. The property itself will be the primary draw rather than a theme. Steve Wynn, the visionary that gave the Las Vegas strip full size sailing ships that sink, active volcanoes and performing fountains, has an eight-story mountain enclosing a lake planned for Le Reve. The mountain will run parallel to the strip and offer designed views to different areas of the hotel .The 2,700-hotel room property will have oversize suites with large, opulent bathrooms, plasma screen televisions and high-speed wireless Internet throughout. The property will include a new golf course, 110,000 square foot casino and eighteen restaurants. There will be a full service Ferrari and Maserati dealership at the property. Le Reve is focused to attract the high-end guests that currently stay at the Bellagio.
Friday, April 18, 2003
Copyright © Las Vegas Review-Journal
Popular Pages on Old Vegas Chips