The Mirage Hotel Casino Games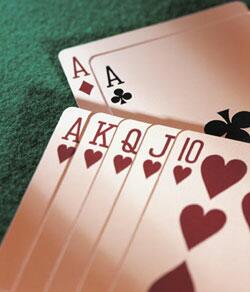 Poker, in its many different forms, is one of the premier gambling games in the world.
It offers excitement, action, and while it demands great skill from an expert player, it still contains a strong element of luck for those who are just beginning. Most of all, poker is fun to play.
Poker is played against other players; the casino is not involved.
If you are an experienced player, or just beginning your first adventure in poker, you will feel welcome and comfortable in The Mirage Cardroom.
The Mirage features a spacious 31-table environment which spreads "live games" in varying limits of 7 Card Stud, Texas Hold'em and for those High/Low Split enthusiasts, Omaha 8 or Better.
---
The Mirage Race and Sports book offers a high-energy environment where you can catch all of the exhilarating energy of racing or relax and watch the game with friends in our sports lounge.
With its 10,000 square feet of big-screen action, our state-of-the-art facility is one of the largest and most sophisticated race and sports books in Nevada.
Sit back in style and comfort as the brilliant expanse of our projection screens transport you to the center of the action and bring to life all of your favorite race and sports events.
The Mirage Race & Sports Book offers some of the largest betting limits available anywhere on straight bets, parlays, totals, money lines and teasers.
We also offer year-round parlay cards, including an exclusive "Money Line Card" where all you have to do is pick the game winners.
---
Discover the Slot Player's Paradise
At The Mirage we have taken great care to provide our guests with the widest possible array of options when it comes to slot and video poker machines.
The Mirage offers everything from games that can be played for one penny to games that use $500 tokens. Guests may choose between games that can be played for one coin and games that allow players to wager up to 500 coins per spin.
For slot players The Mirage has hundreds of options from which to choose. From traditional "reel" slot machines to the latest video reel machines to hit the market. Players may go after single machine progressives, or try for the big bucks on one of our machines with a multi-million dollar top award.
---
The Mirage offers a wide variety of table games - from our blackjack tables with the best rules in town, to high action baccarat.
Whether you are a novice player or a serious gambler, The Mirage has something for everyone.

Baccarat
Although traditionally the grandest of all table games, Baccarat is a simple game of chance. Players may sit in any of the 14 open seats at the table, as seating position does not affect the play in any manner. Those participating in the game may place a wager on either the bank or the player. Two hands, of two cards each, are dealt from the baccarat 'shoe'. Later, a third card may be required for either hand. The first hand represents those betting on the player, the other betting on the bank. The winning hand is the one which totals the closest to 9. Tens, cards totaling ten, or picture cards count as nothing or 0. All other cards count as their face value. If the cards total a two-digit number, the last digit counts as the value of the hand. For example, 7+8=15, counts as 5 in baccarat.
Play begins when the shoe is passed to the first customer, who then deals the cards under the supervision of the dealers. Four cards are dealt alternately from the shoe starting with player. If a third card is required for either or both hands, the dealer calls for it. Once the play begins, pre-established rules determine the draw.
All wagers for the bank or player pay even money. Winning bank bets are charged a five percent commission. You may also wager that the bank and the player will draw hands that tie. This wager pays 9 for 1.
The Mirage also offers Midi-Baccarat and Mini-Baccarat games.
Blackjack
Blackjack is one of the most popular casino games. The Mirage offers traditional shoe games, continuous shufflers, and double deck games. The object of the game is to draw cards that total as close to 21 as possible without going over. Each player receives two cards and the dealer receives two cards: one card face up and one down. Tens, Jacks, Queens, and Kings count as ten and aces may count as one or eleven. All other cards count as face value.
Players may elect to stand or hit their hands. If a player hits and his or her total is more than 21, the player "busts" or loses. If the dealer "busts" and the player does not, then the player wins. The player wins if their total is closer to 21 than the dealer's total. If the player and dealer have the same total, it is a tie or "push".
A player receiving an ace and a ten-value card as his or her first two cards, the player has "Blackjack" and wins three to two on the bet unless the dealer also has Blackjack, then it would be a push.

Craps
Craps is one of the fastest moving and most exciting casino games today. A crew of three dealers, each with specific tasks, attends to players as they place bets while a player rolls the dice. Players are welcome to place as many or as few different bets as they choose. The Mirage offers very competitive odds on our craps tables.
Roulette
The Mirage offers both single zero and double zero roulette wheels. Players bet with colored roulette chips designated for each roulette table. The dollar value for each chip is determined at time of buy-in.
There are 36 numbers plus 0 and 00 and many combinations of numbers on which to place bets. Additional bets include: red/black, even/odd, 1 to 18, 19 to 36, first dozen, second dozen, third dozen, and column bets.
The dealer spins the ball. If it lands on a number on which a player has placed a chip the player wins. The payout is determined by how many numbers are covered by a player's chip.
Pai Gow
Pai Gow is played with domino-like tiles. Four tiles are dealt to each player, the dealer, and each vacant position at the table. Dice are shaken and the total on the dice is used to determine which position receives the first hand. The object of the game is to create two hands that are both higher than the bank hand. If one hand is higher than the bank hand and one lower then it is a push. Bets are paid even money and the house collects a 5% commission on all winning wagers.
Pai Gow Poker
As the name implies, this unique game combines elements from Pai Gow and Poker. Players use a traditional deck of 52 playing cards plus one joker, which acts only as an ace or to complete a straight, flush, or straight flush. Players use the seven cards dealt to them to create two hands; one high hand of five cards and a second hand of two cards. As in Pai Gow, both hands must be higher than the bank to win. The house collects a 5% commission on all winning wagers.
Caribbean Stud™
Hard to turn down, this popular game comes from the Caribbean cruise ship casinos. This five-card poker game features a progressive Jackpot. Players will appreciate this unique and colorful alternative to standard poker.
Let it Ride™ Stud Poker
Here's a poker game that doesn't wear a poker face! Players enjoy this effortless game, based on Five Card Stud, without competing against anyone. And the side bonus Jackpot is every beginner's best bet.
3 Card Poker
Three Card Poker is an exciting stud poker game that offers three ways to play and four different ways to win. Players may bet against the dealer or bet on the value of their own three card hand or bet both. Bonus payouts may be had for certain wagers against the dealer.
Casino War
Players and dealers face off for the fastest game in town. Casino War pits card against card in this exciting highest-number-wins-game. Players place an initial wager with the option of making a tie bet.
Spanish 21
This is classic blackjack with a distinctive twist and no 10-cards! Players form quick, same suit poker combinations in this simple and streamlined blackjack game.
Big Six
This Wheel of Fortune game is delightfully simple and a pleasure to view.
Players place bets then relish the suspense as the Big Six wheel spins.
---
Popular Pages on Old Vegas Chips