The Miser 200 Poker Chip Set
What a Deal we have for you - the poker set for the Ultimate Low Rollers!
This set comes with 100 1¢ Chips, 50 5¢ Chips, and 50 10¢ Chips.
Sure the stakes may be low - but you will all go home still as friends!


These are the Las Vegas High Roller Poker Chips. High Quality 11.5 Gram Clay Composite Poker Chips.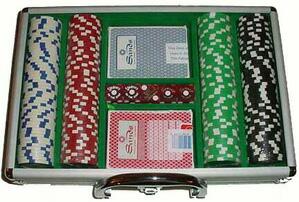 This Set Includes: 100 1¢ Chips, 50 5¢ Chips, and 50 10¢ Chips.
Also includes a 200 Silver Aluminum Carrying Case & 2 Decks of High Roller Playing Cards!

$69 Complete Set
---