ZUMANITY at New York, New York Hotel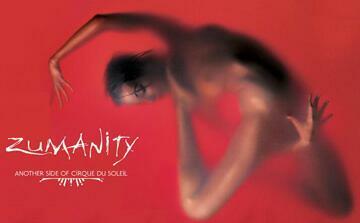 ZUMANITY bears all the characteristics of a classic Cirque du Soleil production —movement, music, color, acrobatics, dance — but is Cirque's first production to deal with human sexuality.
ZUMANITY's exploration of love, sensuality and eroticism, in all its forms and from all perspectives, is ultimately a tale of humanity, emotion, the nature of beauty and the acceptance of differences.
More theatrical than circus spectacle, the creators of ZUMANITY have moved away from the world of the circus and put a new twist on the risqué — sometimes raucous —intimacy of the European cabaret tradition.
ZUMANITY emphasizes the disciplines of dance, movement, acrobatic techniques, costumes and music. In ZUMANITY, contortion, driving salsa music, fire-eating, uninhibited African dance, tango, waltz and passionate flamenco all speak the same language of excitement and desire.
The people who inhabit this "human zoo" come in all shapes and sizes, all ages and conditions, all colors and varieties — and ZUMANITY rejoices in the infinite variety of ways in which they express their own sexuality and their desire for each other.

ZUMANITY is performed Tuesday-Saturday at 7:30 p.m. and 10:30 p.m. and was created for adults, 18 and over.
Tickets are $55 for Cabaret Stools and $75 for Theater Seats. Also available and exclusively sold in pairs are Love Seats for two, priced at $75 per person and Duo Sofas for two at $95 per person. All prices are tax inclusive.
---
Popular Pages on Old Vegas Chips