Bellagio Hotel & Casino
3600 Las Vegas Blvd
October 15, 1998 - Present

On Dec. 14, 2010 - a robber wearing a motorcycle helmet held up a craps table at gunpoint and made off with $1.5 million in chips ranging from $100 - $25,000. The $25,000 casino chips were switched out at the casino within an hour of the robbery, and the Bellagio immediately filed to discontinue the chips. The redemption date ended on April 22, 2011.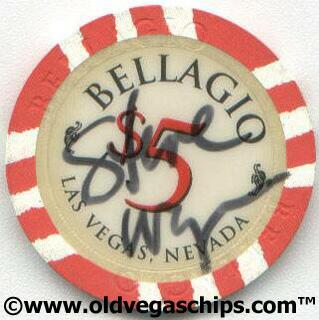 Bellagio Steve Wynn autographed $5 Chip & Bellagio Chinese Snake $8 Baccarat Chip
---
Bellagio First Issue $10 Poker Chip & Bellagio First Issue $20 Poker Chip
---
Bellagio Second Issue $20 Poker Chip & Bellagio $25 Poker Tournament Chips
---
Bellagio First Issue $25 Casino Chip & Bellagio Second Issue $25 Casino Chip
---
Bellagio NCV Poker Tournament $25 Casino Chip & Bellagio NCV Poker Tournament $100 Chip
---