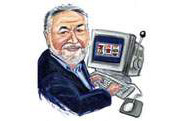 March 28, 2002
Chips Ahoy!
By LEN BUTCHER
You've probably never heard of Pete Rizzo, nor will you probably ever meet him. He's not rich. He's not famous. He's just another entrepreneurial Las Vegan who is doing what he wants to do and enjoying life. It all came about through his love of collecting gaming chips.

When he and his lovely French-Canadian wife, Amanda, moved here in 1992 from Los Angeles, they would buy a chip whenever they visited a casino. A young couple struggling to make a go of it couldn't afford anything exotic; in fact their visits to the casinos were infrequent. But over time, Pete and Amanda had accumulated a fair number of casino chips.

But two years later, they decided to buy a house and that, as we all know, takes mucho moolah. They took what savings they had and, you guessed it, sold their chip collection. But what is meant to be, as they say ... Three years later, while working valet parking at The Mirage, Pete returned to his love of collecting chips.

"We used to have a toke box (toke is our town's slang for tip) and in the box there would be chips from as many as 15 different casinos. People would give us a chip instead of cash. So I decided to buy them all and start collecting again." This time without Amanda, who had now become a stay-at-home mom for their two kids.

At first, it was simply Pete fulfilling his love of chips, but a close friend suggested that since he had such a good collection, and a Web site, he should start selling. "I wasn't that hyped on the idea," Pete said. "The Web site I'd created was a casino chip museum, just to show people different chips from all the casinos."
Pete then shows me boxes of chips stacked in the closet in his bedroom-turned-office. "I put all of my chips in these clear plastic containers to keep them from getting damaged. I've got two kids, who you just met, and they love to play with them."

At 85 cents apiece for the containers, it's an expensive way to store chips, but, says Pete, "It's the best way, and when you sell a chip, you don't want it scratched or damaged in any way." Most of the chips offered are of the $5 variety, simply because that's what the casinos put out for sale. "I used to collect the more expensive chips, but I've scaled that down. Now I only collect $1, $2.50, $5 and $10 chips." The $2.50 chip isn't that popular with the casinos, but people love them, said Pete. "I hope more would be released, because they're very affordable."

One of the nicest $2.50s is from Arizona Charlie's East, Pete tells me as he brings it up on his Web site. He's right, but as I look over the more than 1,000 chips offered on his site, I have to admit, I like almost all of them. A lot of chips sell out as soon the casino releases them, said Pete. "For instance, the $5 St. Patrick's Day chip from O'Shea's was gone in minutes, so if you weren't there buying them up, you were out of luck."

It's a competitive business, so Pete has to be on his toes, knowing when the casino is going to release chips. "They won't put them aside for you, so you have to get there quickly." In fact, I had to wait for Pete, who was out buying chips, to arrive for our interview. Before you start feeling sorry for me, I had a nice time talking to Amanda and watching their 5-year-old daughter do cartwheels across the living room floor, and listen to their 3-year-old son tell me all about his toys, of which there were plenty.

Pete's collection covers chips from all of the Las Vegas casinos, as well as those casinos at Stateline (at the Nevada-California border) and Pahrump, a city about an hour and a half drive away, which boasts three casinos. It's an expensive proposition, "but you don't have a choice," Pete said, "if you want to be in the business. You have to have a good selection to offer the public."

He gets great pleasure, however, from selling his chips to people from all over the world. "You name a country just about anywhere, and I've probably sent chips to someone there. That's the beauty of Las Vegas. People come from all over the world to visit, and when they're here, they don't think about picking up a chip to take back with them. Then later, back home, they'll be looking at Las Vegas on the Internet and come across casino chips and think, 'Why didn't we bring some back?' so they'll start ordering them."

Pete also understands the value of service. "Service is the key for anything. If anyone has a problem with an order, I take care of it immediately. I also give each customer a little bonus with each order. It might be a 50-cent chip from the Four Queens or a slot club card, or even a room key from a casino. People really like it, even though it's just a small thing."

Hottest sellers? "Halloween chips, Chinese New Year's chips. Special events. Millennium chips were awesome. So many people wanted them. I must have invested almost $10,000 in them and fortunately was able to get rid of most of them. I still have a few left."

I also learned from Pete that the artists who design the chips are as well-known as the chips themselves. "Warwick Stone, who is the artist in charge of everything at the Hard Rock, is the king of the chip designers." He shows me a chip for April Fool's that Pete hopes will win casino chip of the year.

In fact, Pete designed another Web site, www.hardrockchips.com, around Warwick's work and uses the April Fool's chip as its logo. I gotta tell ya, in the hour I spent with Pete at his house, I learned more about casino chips than I have in the many years I've been here. If you like chips, you're gonna love these sites.
---
Popular Pages on Old Vegas Chips