Riviera Hotel & Casino
2901 Las Vegas Blvd
April 20, 1955 - May 14, 2015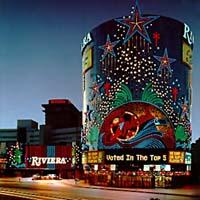 On April 21, 1955 the Riviera opened, to the princely sum of almost 9 million dollars.
The Riviera was the strip's first high rise building, which was just 9 stories tall! It was a beautiful property, done up to the nines to replicate the French Riviera. The opening act was Liberace, who was paid an enormous $50,000 per week.
Riviera 25¢ Casino Chip & Riviera 50¢ Casino Chip
---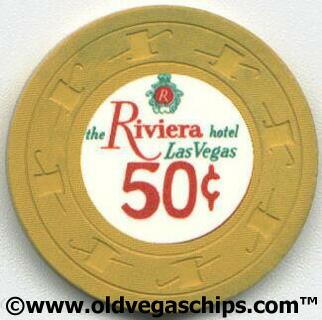 Riviera 50¢ Casino Chip & Riviera 50¢ Casino Chip
---
Riviera $1 Casino Chip & Riviera $1 Casino Chip
---
Riviera $1 Casino Chip & Riviera $1 Casino Chip
---
Riviera $1 Casino Chip & Riviera $2 Poker Chip
---