Tropicana Hotel & Casino
3801 Las Vegas Blvd
April 4, 1957 - Present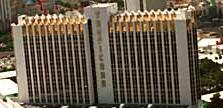 The Tropicana opened on April 4, 1957. This gorgeous 18 million dollar hotel and casino was known as the "Tiffany of the Strip". The iconic tulip fountain was 60 feet tall and at night changed colors with spectacular lighting. In 1959 the Tropicana brought in the Folies Bergere show from Europe and played there for over 50 years.
The Tropicana was the first hotel and casino that did not force the guests to walk through the casino to get to their hotel rooms.
The Tropicana opened in 1957 and these 50¢ and $1 chips were on the tables. I got them from a lady who told me that her husband forgot to cash them in before they went back home. They were here in 1958. Long Obsolete!
---
Tropicana "A Ramada Hotel" $1 Casino Chips
---
Tropicana Current $1 Casino Chip & Tropicana Fountain Issue $1 Casino Chip
---
Tropicana Current Issue $1 Casino Chip & Tropicana Current Issue $5 Casino Chip
---
Tropicana 1st Issue $5 Casino Chip & Tropicana 5th Issue $5 Casino Chip
---
---