Showboat Hotel & Casino
2800 East Fremont Street
1954 - 2001

Showboat casino chips from the early years are uncommon primarily due to the fact that it was considered far away from everywhere. It was a long drive from the Las Vegas Strip. Most people love the comfort of the strip and would rarely venture off of it.
Showboat Hotel 25¢ Casino Chip - Front & Back
---
Showboat Hotel 25¢ Casino Chip & Showboat Hotel 50¢ Casino Chip
---
Showboat Hotel $1 Casino Chips
---
Showboat Hotel $1 Casino Chip & Showboat Hotel $5 Casino Chip
---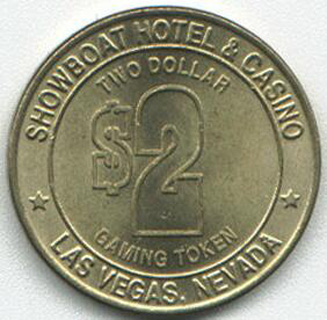 Showboat Hotel $2 Slot Token - Front & Back
---
---