Showboat Hotel & Casino
2800 East Fremont Street
1954 - 2001

When Amanda and I would go to the Showboat to get casino chips, we used to laugh how part of the casino was all slot machines with mirrors on the walls. It was like being in the hall of mirrors at the fun park. You would walk in circles, tire out, and sit and play the machines, as you desperately plotted your way out.
Showboat Hotel $5 Casino Chip & Showboat Hotel 4th of July 1995 $5 Casino Chip
---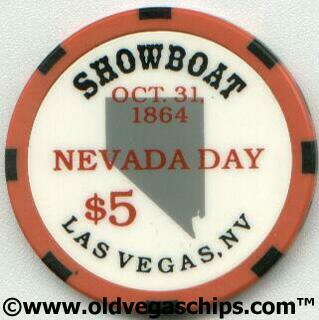 Showboat Hotel Nevada Day 1995 $5 Casino Chip - Front & Back
---
Showboat Hotel 45th Anniversary $5 Casino Chip - Front & Back
---
Showboat Hotel Millennium $5 Casino Chip - Front & Back
---
Showboat Hotel 40th Anniversary $5 Casino Chip
Showboat Hotel 40th Anniversary PBA Tour $5 Casino Chip
---
---